O.M.A.R. Technology was established in 1975 and started with the conversion of industrial vehicles and construction of special bodyworks.
In 1982, acting on a specific request made by the Carabinieri 's General Headquarters, the Company realised and built the first semi-trailer for helicopter's transport which followed a series of electrical trolleys for helicopters movement subsequently sold to the Helicopter Departments of the Italian Armed Forces such as Army, Revenue Guard, Fire Brigade, Coast Guard, Forest Guard, Police Force, AgustaWestland S.p.A., Belgian and Spanish Armed Forces, and private customers, up to more than 900 units.
In 1984 on the request made by the Italian Armed Forces Health Department, the Company realized and built the Emergency Field Hospital with Operating Theatre and intensive Care Unit (N.C.E.) in heli-transportable variable volume containers that may be transported, in case of natural disasters when usual road conditions are interrupted, inside of CH 47 helicopters and G 222 – C130 airplanes or similar ones.
The Heli-transportable Surgical Unit (N.C.E.) allows for the first time operators to use a functional structure with the following characteristics: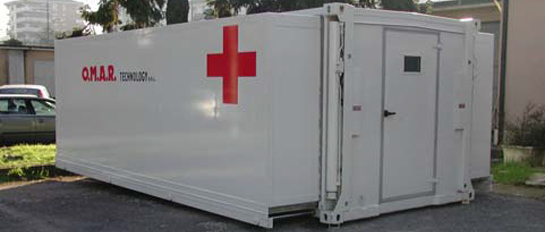 contained dimensions during transport and enlarged volume during operative use
full autonomy
provided with complete sanitary and supporting equipment already pre-assembled inside of containers
transportable by any means
easy and fast assembly through simple operations becoming operative within 45/50 minutes
From good results and experience through Mission in Turkey, Somalia, Mozambique, Bosnia, Albania, with the Italian Armed Forces during OTAN / UN peace-keeping operations, O.M.A.R. Technology can offer a reliable and functional product which has been tested and strictly complies with the current standards and regulations for hospital use.
Moreover, in order to put at operators' disposal variable volume containers for different uses, the Company realized and built containers with extendible walls analogous to ISO 20" Standards to be used as Pharmacy, Analysis Laboratory, First Aid Unit, Dental Unit, X-Ray Unit, Kitchen and many others.
All the products successfully passed every technical tests performed at the Technical Military Center.